With 6 Super Factories, Production Mania Tesla Online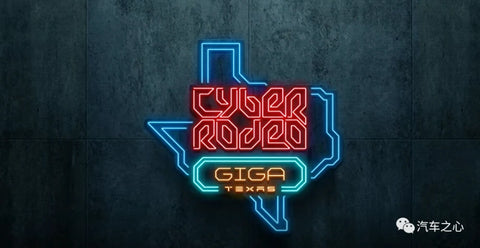 "The focus of this year's planning is on expanding car production, not launching new models.

At Tesla's fourth quarter earnings meeting in late January, Tesla CEO Musk gave an early preview.

So how is Tesla planning to expand its car production?

In the last half month, Tesla has responded to the outside world with two advanced super factories around the world.

01

Six superfactories to support

Tesla enters a new phase

Musk has said that Tesla plans to build factories on every continent.

The benefit of this is that cars will be shipped over shorter distances and vehicles can be delivered to consumers faster.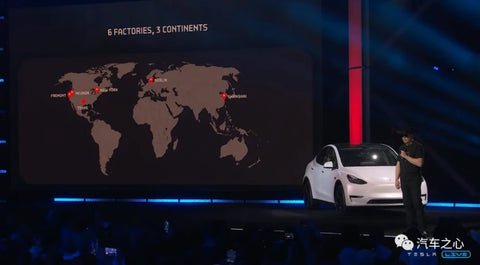 Currently, Tesla has six super factories around the world, spanning three continents: Asia, Europe and North America.

The California, Shanghai, Berlin and Texas plants are responsible for vehicle manufacturing, while the Nevada and New York plants are responsible for battery pack, charging pile and solar roof production respectively.

In February, Musk said: Tesla is confident that it can maintain "an average annual growth rate of 50% in vehicle deliveries. At that rate, 1.4 million vehicles will be delivered in 2022.

And at the 2021 shareholders meeting, Musk also set a Flag: 20 million vehicles per year by 2030.

It can be said that the future growth of Tesla is not only testing the sustainable product competitiveness of Tesla, but also testing the global production capacity of Tesla.

In 2021, Tesla's two main products, the Model 3 and Model Y, were the champion and runner-up of global new energy passenger car sales respectively.
With the gradual release of capacity at the Berlin and Texas plants, Musk is also betting more expectations on the Model Y, including adjustments to some production lines, and sales of the Model Y will continue to soar in the future.

Musk expects that the Model Y could be the best-selling electric car by 2023.

In his eyes, the mission of the Model Y is to "become Tesla's best-selling product.

At the same time, the portfolio will have to continue to expand in the future in order to support Tesla's lofty strategic goals. This also puts higher demands on Tesla's product planning and competitiveness.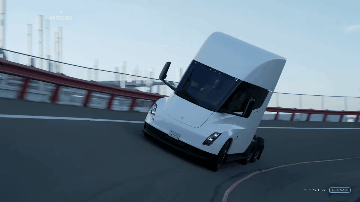 The electric pickup truck Cybertruck, electric truck Semi, and sports car Roadster 2 will be in mass production in 2023. At the same time, there will also be a dedicated driverless cab model (Robotaxi) unveiled.

Right now, Tesla's production plants already cover three major markets around the world. Considering the difficulty of manufacturing itself, Tesla will fully expand and utilize the capacity that is currently in production and being planned before looking for a new factory.

As Tesla's number one factory, the Shanghai Superfactory will account for 51.7% of Tesla's total deliveries in 2021, surpassing the Fremont, California factory.

According to publicly available information, the Shanghai plant is expanding parts production and is expected to increase weekly production to 22,000 units, or 1.1 million units per year. If things go well, Tesla China's annual production in 2022 will be 2.3 times that of last year.

Tesla's California plant has an annual production capacity of 600,000 units, including 100,000 Model X and Model S, and 500,000 Model Y and Model 3, making it Tesla's second largest plant.

Both the Berlin and Texas plants have an annual capacity of 500,000 units for the Model Y. Musk said he will quickly increase the capacity of the Texas plant to 1 million vehicles per year.

With the two new factories in operation, Tesla's 2022 capacity could reach 1.9 million units, or even exceed 2.7 million units.

At the same time, localized production and delivery has also become a cost-cutting tool for Tesla.

Shanghai's capacity, for example, is 65 percent lower per unit of capital expenditure than the California plant (which also has a lower average selling price in China).

Tesla has also reduced the number of assembly steps in Shanghai from 100 (the number of steps other manufacturers typically have) to just 45, and reduced the welding line from 1,000 robots for the Model 3 to 300 for the Model Y.

In addition to the four current superfactories, Tesla is also looking for new factory locations.

At the end of January 2022, Musk revealed that he will announce the site of Tesla's fifth factory worldwide within the year.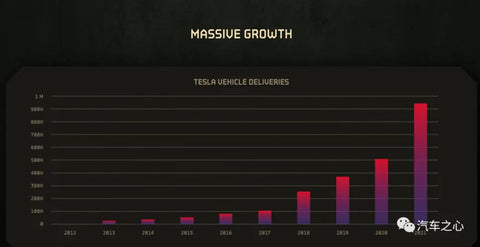 If we take a single factory with a capacity of 600,000 units, Tesla will need to build nearly 30 new factories at full capacity in the next 10 years to reach 20 million units per year by 2030.

02

20 million vehicles per year by 2030

What will it take to get there?

"The world's most modern car factory starts up in Greenheide, Berlin, and cars roll off the assembly line at record speed.

This was the description given by a reporter from the German newspaper "Handelsblatt" after a visit to the Berlin plant.

How fast is this speed? -- it takes just 45 seconds to produce a Model Y body.

It's safe to say that Tesla is producing cars in record time. And behind the realization of all this is the manufacturing revolution launched by Tesla.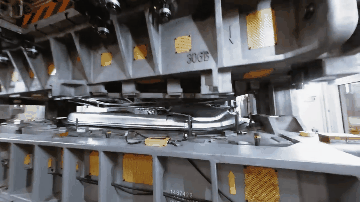 A front body casting, a rear body casting and a structural battery pack that can bear pressure - these are the three main components that Tesla uses to produce its vehicles.

According to Musk, "Producing a car with three main parts is a change in car production.

The impetus for this one change comes from the one-piece die-casting machine, which allows for very efficient production, radically simplifying the process and saving manufacturing costs.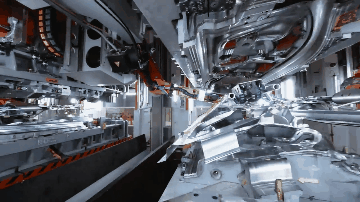 In the Berlin plant, for example, a die-casting machine presses body parts in 20-second cycles at a pressure of 2,500 tons. The advantage of this is that Tesla can produce a Model Y in 10 hours, compared to the 30 hours it currently takes Volkswagen to produce an ID.3.

According to Tesla's official data, the one-piece die-casting technology is expected to give the Model Y about 20% savings in manufacturing costs.

Of course, one-piece die-casting is not perfect. For owners, if an accident occurs and the casting is deformed, it must be replaced in its entirety, which can make repairs more expensive for the owner.

Nevertheless, including Volkswagen, Volvo, and new forces Xiaopeng, Azera, Ideal, and Gaohe are all following the one-piece die-casting.

Some industry insiders say that by 2030, one out of every two electric cars will be produced using this process.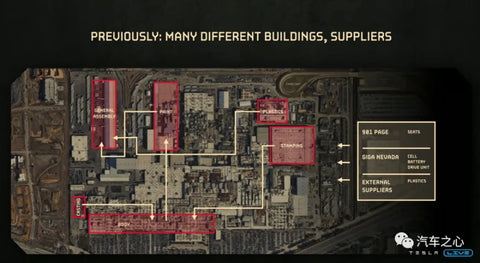 On Cyber Reomo, Musk compared the Texas plant to "a chip that packs all the elements together.

As you can see from the factory floor plan, every inch of the Texas factory is put to good use compared to the California factory.

The entire process, from stamping and welding to painting and assembly, can be done seamlessly within the plant, increasing production efficiency and reducing transportation costs.

"Raw materials in, cars out. This is what Musk expects from the Texas factory.

It's not just the new production process for the cars, but also for the batteries produced in the Berlin and Texas plants.

The Model Y produced in these two superfactories uses CTC (Cell to Chassis) technology, which eliminates the Pack design and installs the cells or modules directly into the body, saving 370 parts, reducing the weight of the body by 10 percent and lowering the cost of the battery by 7 percent per kWh.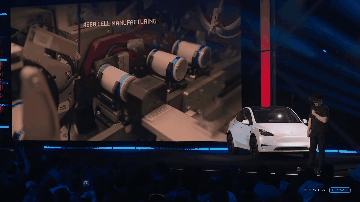 The shift from 2170 cells to 4680 cells will also bring down the cost of batteries.

"Tesla is going to do 'something no other car factory in history has ever done,'" Musk said. Musk said.
According to the current layout of Tesla.

2 6,000-ton one-piece die-casting facilities in the California plant.

3 one-piece die-casting machines in Shanghai.

1 8,000-ton die-casting machine already laid out in the Texas plant.

The Berlin plant, with a planned capacity of 500,000 units, will be equipped with 8 one-piece die-casting machines.

With four super factories and 14 one-piece die-casting machines, Tesla has deployed one-piece die-casting technology as a standard process in its super factories.

But Musk is not satisfied, and is still seeking to improve manufacturing efficiency and reduce the capital expenditure of the factory. It is foreseeable that by 2025, Tesla's production capacity will reach a new peak.

03

"I'm a big believer in manufacturing"

I'm a big believer in manufacturing ...... manufacturing is underrated," Musk told the world on the day the Fremont, California, plant opened in 2010.

Starting with the California mega-factory, Musk gradually built the scrappy factory, acquired from Toyota and GM, into the world's most advanced car factory, making machines that make machines.

Reducing the complexity of vehicle manufacturing through continuous optimization of the machines.

Improving manufacturing efficiency while reducing costs.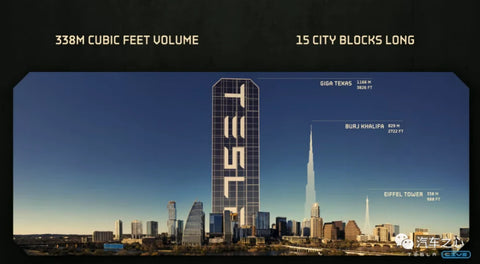 The Texas factory now goes a step further and fulfills all of Musk's expectations for a "machine-made machine".

The world's most advanced car factory, the world's largest battery factory, and also the world's largest factory building (the Texas factory stands taller than the world's tallest building, the Burj Dubai).
"This building is the most advanced automobile factory ever built on Earth, and that's exactly what 'alien technology' is.

"If a factory is like a landed alien dreadnought, then it must be advanced.

"This is the machine that produces the machine, and it's the latest version of the machine that produces the machine."

At Cyber Reomo, Musk didn't mince words in praise of the Texas factory.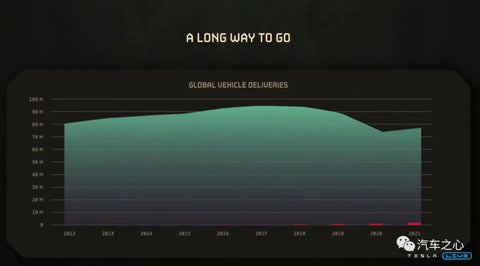 For Tesla, 2022 is the year of production expansion. 2023 will be a big year for Tesla's products.

At this big party at the Texas super factory, Musk didn't forget to drop a teaser: "Starting next year, we're going to offer one of the best products after another, and some cool products we've never mentioned before.

This is simply whetting the appetite of Tesla fans.
Of course, what's even more interesting is that when the four superfactories in California, Shanghai, Berlin and Texas start operating at full capacity, Tesla, the production monster, will be ready to emerge.

At that point, we will be one step closer to the era of "accelerating the world's transformation to sustainable energy".
---