Tesla's New Car Exposed, No Brakes And Steering Wheel, And Three New Products
Perhaps because too many people are spitting on the brakes, Tesla decided to build a new car without brakes.

During the Q1 2022 earnings call, Musk broke a bunch of big news, including a heavy-duty new car.

This new car won't have a steering wheel or pedals, as it will be driven entirely using FSD (fully automated driving) software.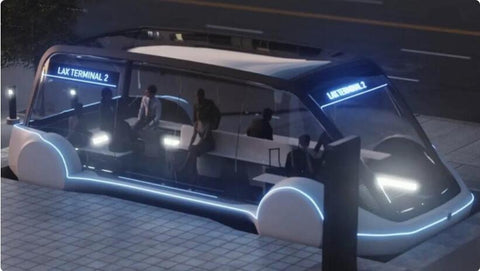 No brakes and no steering wheel
" We're also developing a new vehicle that I mentioned at the opening of the Tesla Texas Superfactory, a specialized Robotaxi (self-driving cab) that's highly optimized for autonomous driving, which means it won't have a steering wheel or pedals."

Musk mentioned on the conference call that " there are a lot of innovations around it that I think are pretty exciting."


He did not reveal how the car will look like, but we can refer to the model in Musk's tunnel company, The Boring Company promotional video.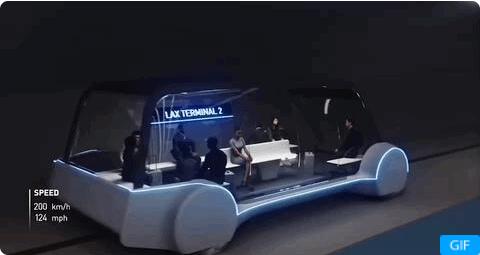 Musk estimates that Robotaxi will be able to provide consumers with the lowest cost of transportation per unit of travel, even lower than the subway and bus.

This is not only to dry up the cab net car, but also want to steal the business of public transport ah! Therefore, Musk believes that this new car, will become the main driver of future Tesla growth.

Tesla plans to launch this Robotaxi in 2023 and achieve mass production in 2024.

But anyone who knows Musk knows that this guy is never reliable when it comes to time commitments - he let it slip in 2019 that there would be 1 million Tesla Robotaxi's by the end of 2020.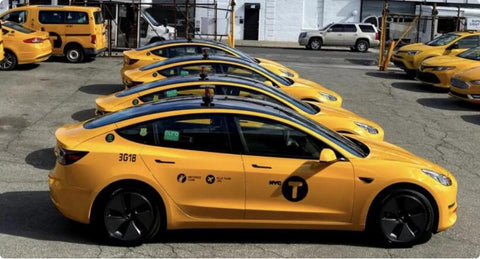 What is certain is that the timing of Robotaxi's launch will depend on the progress of FSD's development.

Musk recently said twice that FSD Beta, during the development process, will encounter a large number of false dawns of victory.

That is, so many times you think that Autopilot is finally solved, but in fact, it is entering a bottleneck that needs to be broken to restart rapid progress.

Perhaps, someday we will see Tesla ditch the camera solution and join the LIDAR camp.

Tesla's most valued project

The Optimus robot, previously less valued by everyone, has been brought to a new level of priority within Tesla.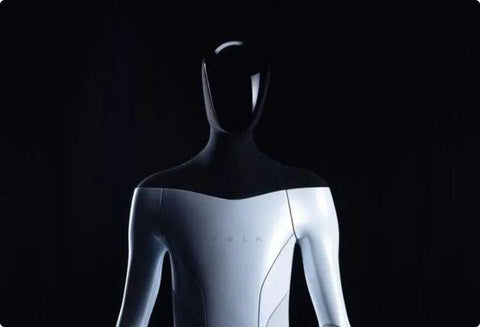 On the conference call, Musk spoke of how people don't yet realize the scale of the Optimus robotics program, and how its importance will become apparent in the coming years, even as Optimus will eventually become more valuable than the car business, and more valuable than FSD.

In August 2021, Tesla unveiled the Optimus robot at AI Day, which consists of the FSD on-board computer in Tesla's cars, along with a vision perception system and 40 micro motors.

In Tesla's vision, such a robot, which might be used to perform dangerous human work or hard labor in the early stages, would become more advanced in the future, capable of tasks such as caring for people and cooking.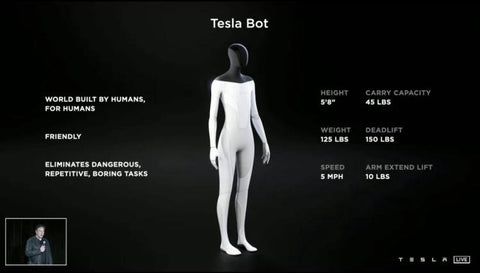 Musk said that by about 2050, most households will have home robots. It won't cost insanely high, probably not more than a car.
Suddenly thought of "Detroit : The Changing Man" ......

One more thing

In addition, Musk also mentioned several things in the conference call.

1. The Berlin superfactory will still use the 2170 battery pack at the beginning of production, and will not switch to the 4680 battery pack until the third quarter of this year.

The Texas Superplant will use both 2170/4680 cells to produce the Model Y.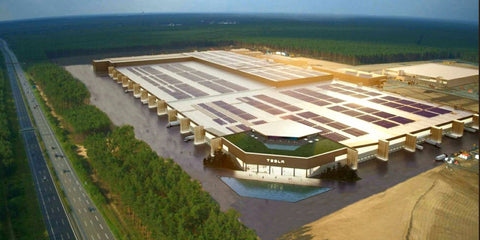 2, Cybertruck and Semi may upgrade 800V voltage platform, but the current 800V platform is not much advantage, but the cost is not low. Tesla more sales support it to switch platforms.

3, this year will be pushed to all FSD users in the United States FSD Beta software, the current number of FSD Beta users has increased to 10 + million people size.

4, the global car inventory cycle 3 days, while the peer is about 40-50 days level.

Tesla sells cars in China, Europe and North America, a large number of cars have to cross the ocean, and many orders need to be transported 1000-2000km to complete delivery.

The final average inventory cycle is 3 days, which is a very scary number, indicating that Tesla has a significant percentage of models that achieve " factory to delivery in one day".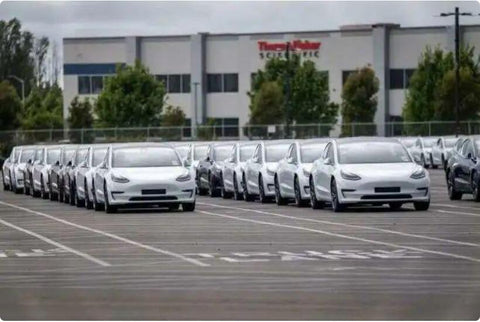 Cook was able to become the successor of Steve Jobs, a very important reason is that he reduced Apple's inventory cycle from 1 month to 6 days.
Tesla without borders

Finally, look at Tesla's first quarter 2022 financial results together.

According to the results, Tesla's revenue was $18.76 billion, an increase of 81% year over year, including $16.861 billion in automotive revenue, an increase of 87.3%.

Net income was $3.318 billion, up 657.6% year-over-year, with all figures better than market expectations.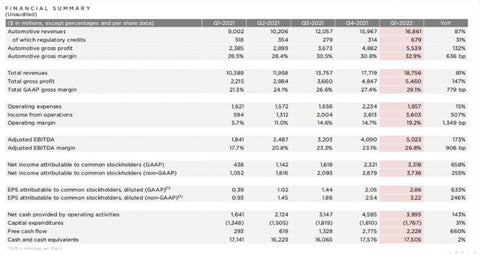 It is worth noting that the gross margin of Tesla's automotive business in the first quarter, has come to 32.9%, higher than the market expectation of 28.4%.
Take the $57,900 Model Y entry model, for example, its gross profit reached $19,000.

It's scary as hell to make $19,000 selling a car.
Tesla shares are up 5.57% after hours on good news and now have a market cap of $1.04 trillion.
---