Tesla Kicked Out of S&P 500 ESG Index
According to the report, Tesla's "lack of a low-carbon strategy" and "code of business conduct," as well as reports of racism and poor working conditions at Tesla's factory in Fremont, California, affected the score.

Tesla CEO Elon Musk called the ESG metrics "the devil incarnate.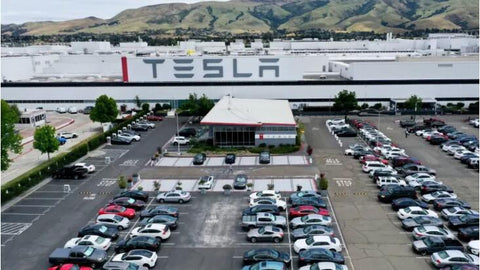 As part of the list's annual update, the S&P 500 removed electric car maker Tesla from its ESG index. Meanwhile, Apple, Microsoft, Amazon and even oil and gas multinational ExxonMobil remain on the list.

The S&P 500 ESG Index uses environmental, social and governance data to rank companies and effectively recommend them to investors. Its criteria include hundreds of data points for each company related to the way companies impact the planet and treat stakeholders beyond shareholders, including customers, employees, suppliers, partners and neighbors.

The changes to the index took effect May 2, and a spokesperson for the index explained why the changes were made in a blog post published Wednesday.

The report said Tesla's "lack of a low-carbon strategy" and "code of business conduct" as well as reports of racism and poor working conditions at Tesla's factory in Fremont, California, affected the score. Tesla's handling of the National Highway Transportation Safety Administration investigation also affected its score.

While Tesla's stated mission is to accelerate the world's transition to sustainable energy, it settled with the Environmental Protection Agency in February after years of violating the Clean Air Act and neglecting to track its own emissions. Tesla ranked 22nd on last year's Toxic 100 Air Pollution Index, compiled by the U-Mass Amherst Institute for Political Economy, worse than ExxonMobil, which ranked 26th. (The index uses data from 2019, which is the latest available.)

In Tesla's first quarter filing, the company also disclosed that it is under investigation for handling waste in California and that it had to pay a fine in Germany for failing to meet the country's "recycling" obligations for used batteries.

Meanwhile, the California Department of Fair Employment and Housing sued Tesla for alleged anti-black harassment and discrimination at its Fremont auto plant. The agency said it found evidence that Tesla routinely put black workers in low-level positions at the company, gave them more physically demanding and dangerous tasks, and retaliated against them when they complained about racist slurs.

Last year, the National Labor Relations Board said Tesla had also engaged in unfair labor practices.

A Standard & Poor's spokesman wrote. " While Tesla may have played a role in pushing fuel-efficient cars onto the road, it has fallen behind its peers from a broader ESG perspective."

Tesla CEO Elon Musk took to Twitter Wednesday morning to express his displeasure with the index, where he has more than 90 million followers, calling S&P's global ratings "a loss of integrity.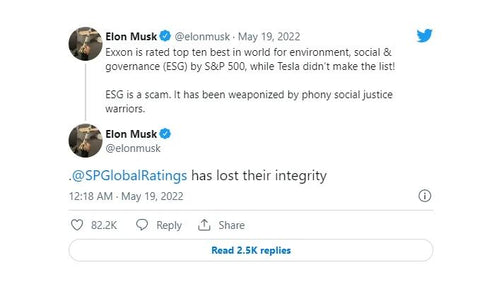 In an earlier tweet about Musk, it was written. " I am increasingly convinced that corporate ESG is the devil incarnate."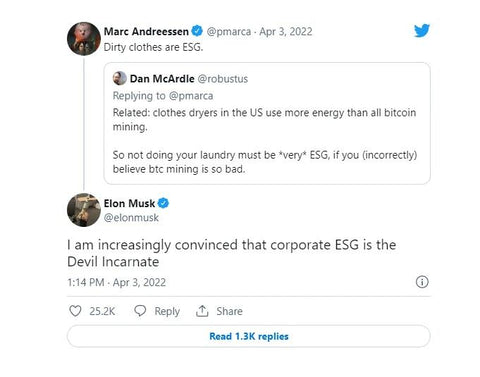 In a subsequent company impact report, Tesla wrote. " Current environmental, social and governance (ESG) reporting does not measure the scope of positive impact on the world. Instead, it focuses on measuring the dollar value of risk/reward. Individual investors - ESG funders who entrust their money to large investments - may not realize that their money could be used to buy shares in companies that are making climate change worse, not better."

In that report, Tesla argued that other automakers could get a higher ESG rating even if they did little to reduce greenhouse gas emissions and continued to produce cars with internal combustion engines.

Tesla shares closed down more than 6 percent on Wednesday due to a general market sell-off. The company's stock has fallen more than 30 percent this year.
---