Tesla Fourth Global Superfactory Starts Construction, Model Y Sales May Increase Significantly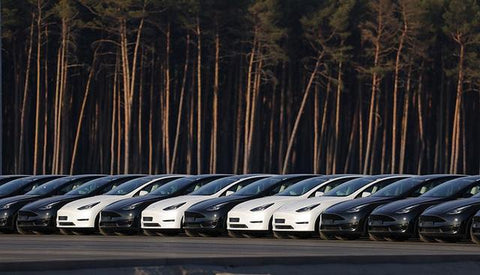 The Tesla Berlin Superfactory will reportedly hold a groundbreaking ceremony at 3 p.m. on March 22. Tesla CEO Musk has already flown to Berlin and plans to personally hand over the first batch of Model Y cars produced at the plant to customers. German Chancellor Olaf Scholz is also scheduled to attend the opening ceremony.

This is Tesla's fourth superfactory in the world, after Nevada, New York and Shanghai.

Back in November 2019, Musk announced a plant in Berlin, Germany, with plans to start production by July 1, 2021. Tesla announced the plant soon after the "three accesses and one leveling" stage, that is, access to water, electricity, access roads and site formation. However, due to protests from the Brandenburg Green Alliance, a German court ordered a halt to the construction of the plant on the grounds that Tesla's new factory would require deforestation and cause damage to the local ecology. But previously Tesla had already obtained permission to cut down 92 hectares of forest.

In addition, the German Nature Conservancy and other environmental organizations have also filed a lawsuit against the Brandenburg environmental department for water use, accusing Tesla of "stealing" local drinking water, and Tesla eventually agreed to reduce the water used by the factory by more than one-third.

Tesla's Berlin mega-factory also encountered many problems during construction, such as World War II bombs, the impact of snakes hibernating, failure to pay security deposits and other problems, construction had to be suspended several times, resulting in repeated delays in production.

On March 4, 2022, the Brandenburg State Ministry of the Environment issued a conditional permit for the Tesla Berlin Superfacility, stating that Tesla must meet several conditions regarding water and air pollution control in order to obtain an operating permit.

As Tesla's first European superfactory, the Berlin superfactory will have an annual production capacity of 500,000 units, with the Model 3 and Model Y being the main models produced.

According to JATO Dynamics data, Tesla will sell about 168,000 units in Europe in 2021, with Model 3 sales reaching 141,400 units. This is partly because the Model Y entered the European market late; on the other hand, the Model Y exported to Europe is limited due to the Shanghai mega-factory's priority to meet the strong demand in the domestic market.

Tesla's Shanghai Superfactory, as an important export center for Tesla, contributed more than 160,000 units delivered to overseas markets, covering more than 10 countries in Europe and Asia.

The commissioning of the Berlin superfactory will largely boost production capacity and ease delivery pressure, and Model Y sales in Europe may rise rapidly.

In February, Musk said that Tesla's car deliveries in 2022 will increase by more than 50% compared to last year, which means Tesla will deliver more than 1.4 million cars this year.

Currently, Tesla's Shanghai plant, which has an annual production capacity of 470,000 vehicles and will account for 51.7 percent of Tesla's total deliveries in 2021, has recently begun an expansion and renovation that is expected to reach an annual production capacity of 1.1 million vehicles.

Tesla's U.S. mega-factory in Fremont, California, has an annual production capacity of 600,000 units, and the Austin, Texas, plant is in full swing with an annual capacity of 500,000 units and is expected to come online this year.

If all goes well, with the Berlin and Texas plants coming online, Tesla's total production capacity reaches 2.7 million vehicles and global capacity will exceed the projected growth in sales.



---