Tesla earnings meeting is approaching, Musk will offer what big move to save the stock price?
After the bell on Wednesday, Tesla will release its fourth-quarter earnings results and hold a conference call. Tesla CEO Musk will return to the earnings call and announce its future product development path.

After the release of strong delivery data at the beginning of the month, Tesla shares had soared to $1,200 at the beginning of the month, but then followed the army of technology stocks together to open the "down" mode, as of Tuesday's close Tesla closed at $918.4, roughly calculated, has fallen more than 23% from the high point at the beginning of the month, can be compared to the Nasdaq fell 13% in the same period.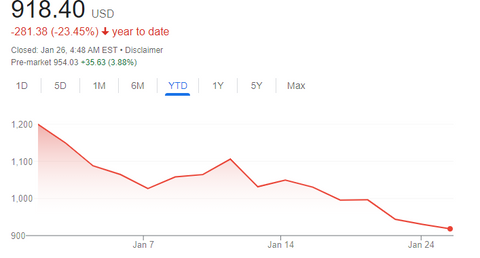 Objectively speaking, the reason for Tesla's share price decline has little to do with the company's own operations, but more to do with the expected Fed rate hike, the U.S. stock market's sell-off of growth stocks.

In this context, Tesla in the earnings meeting to tell a good story about "future growth prospects" is particularly important. After all, even after the plunge, Tesla's valuation is still not low, and it needs to emphasize its growth prospects to support the valuation. Therefore, Tesla's future capacity growth, product lines, 4680 battery mass production and other issues will be the most important concern of investors.

Caixin will be following Tesla's earnings call and live streaming the graphics at that time, so please stay tuned.

Earnings data is not expected to worry

Although it's an earnings call, the earnings results themselves may be the least of investors' concerns. After all, Tesla has already announced its car delivery figures for the fourth quarter of last year, and analysts have already adjusted their fourth quarter earnings estimates accordingly.

Earlier this month, Tesla had already reported that it delivered 308,600 electric cars in the fourth quarter of last year, greatly exceeding Wall Street's general expectations and driving the total number of cars delivered for the full year 2021 to more than 936,000.

Buoyed by the strong numbers, Wall Street analysts also further raised their forecasts for Tesla's 2022 car deliveries from around 1.3 million to more than 1.4 million.

Given the strong car delivery numbers, Tesla's fourth-quarter revenue numbers appear to be nothing to worry about, although earnings numbers could still be dragged down by supply chain costs and the cost of bringing new factories online.

Tesla's third-quarter revenue of $13.76 billion last year was close to the market's estimate of $13.626 billion, but earnings per share of $1.63 were much better than the market's estimate of $1.14.

Wall Street's current general expectation is that Tesla's fourth-quarter earnings will further improve to $2.30 per share, while the open financial forecasting platform Estimize expects even higher, reaching $2.51 per share.

The most important question for investors: How is the 4680 battery mass production

Once Tesla's 4680 battery was announced at Battery Day 2020, it continued to receive a high level of market interest. According to Tesla's presentation at the time, the 4680 battery is 5 times more energy-wise, 16% more range, and 6 times more power-wise.

However, so far, Tesla's information about the self-produced 4680 battery has rarely been revealed.

According to the Nikkei News on Monday, Tesla's main battery supplier Panasonic will start producing new batteries for Tesla in Japan as early as 2023. In addition LG Energy Solutions is also reportedly planning to produce 4,680 batteries in 2023. However, it is still unknown when Tesla itself will be able to mass produce 4680 batteries.

On Tesla's official website, the question "how is the mass production of 4680 batteries progressing" has been the most important concern of retail investors.

At Tesla's annual general meeting last October, Musk said that the 4680 battery is being produced in the California factory, with an annual production capacity of 10GWh, and that the Texas super factory is expected to mass produce 4680 batteries by the end of 2022.

Tesla had announced that the first cars with 4680 batteries are expected to be delivered early in 2022.

However, given the ongoing supply chain and labor challenges, the 4680's volume production schedule may not be optimistic. guidehouse Insights analyst Sam Abuelsamid said, "I wouldn't be surprised if Tesla faces some significant manufacturing challenges, such as those in high-volume production of new vehicle structures and new batteries. be surprised."

How is Tesla's new car progressing?

Another important issue that Musk needs to shed light on is the question of its future product path.

The first is about the progress of Tesla's electric vehicle, the CyberTruck. Tesla first revealed the CyberTruck back in November 2019, but then jumped the gun a few times and the latest timeline released is that mass production will not officially begin until the end of 2022.

This means Tesla's electric pickup truck is already well behind the progress of some of its later competitors. One of Tesla's biggest competitors, Rivian, has already launched its electric pickup, the R1T, which has been marketed and received good reviews, while GM recently launched its GMC Hummer electric pickup, and Ford's F-150 Lightning is expected to hit the market this year. All of these products expose CyberTruck to a growing competitive threat.

Tesla has also apparently felt the competitive pressure. According to foreign media, Tesla last October overhauled the CyberTruck configuration, completely abandoning the original $39,900 single-motor entry-level configuration and replacing it with a high-end model equipped with four motors to better compete with the R1T.

There has even been recent speculation that Tesla may already be working on a smaller version of the CyberTruck for markets outside of North America.

Another key model that underpins Tesla's growth story is the so-called model 2 model. This will reportedly be an affordable compact two-seater priced at $25,000. The company first announced it would release the model at its Battery Day launch in September 2020, and the car is seen by Tesla's long-term investors as a focus for Tesla's electric vehicle penetration into the lower-middle market.



---