Tesla Berlin Plant Protested By Environmental Groups Over Paint Spill
For Tesla, 2022 is a critical year for it. In its first quarter earnings report released not long ago, it achieved record revenue, car deliveries, operating profit, operating margin and many other indicators, including a net profit of over $3.3 billion, an increase of up to 658% year-on-year, and the only thing that seems to affect its deliveries is its production capacity. However, with the official opening of two super factories in Austin, USA and Berlin, Germany, its production capacity will be further enhanced in 2022. But recently, according to foreign media reports, as Tesla's German Berlin factory was exposed to environmental problems, local environmental groups once again asked to withdraw its production and operation qualifications.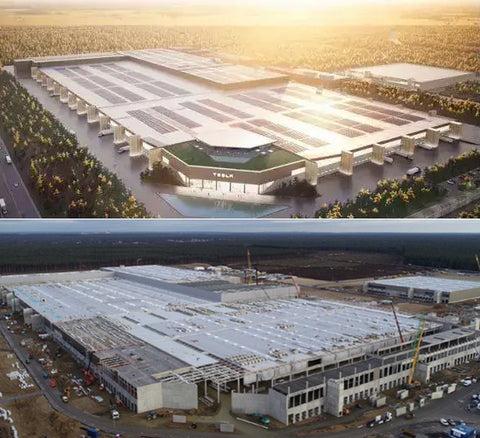 Shortly after Tesla's Berlin plant went into production this past April, 15,000 liters of paint mixture leaked out of Tesla's paint shop and was subsequently pumped out by a disposal company. A day later, two to three liters of paint leaked onto the road while being loaded and condensed into clumps. The substance was thought to be a minor hazard to water. However, a state report subsequently released stated that the paint did not enter the sewer system and did not enter groundwater. However, the action was protested by the German environmental group "Green Alliance".

"The Green Coalition demanded that the relevant agencies revoke Tesla's factory license until Tesla had completed paving some unpaved areas around the paint shop to prevent hazardous materials from entering the aquifer. "The Green Alliance said it would ask the Ministry of the Environment to intervene if the district did not act on its request.
Tesla and local environmental groups in Germany have been in conflict over the environmental issues that exist during the construction and production of the new factory. The plant was completed last summer, but because of protests from environmental groups, it was not officially qualified for production until March of this year. The $5.5 billion Tesla Berlin mega-factory is Germany's highest-priced car factory in recent years. The plant is expected to employ up to 12,000 people, which will play a direct role in promoting local employment and the economy.
---