Tesla 2021 Impact Report Explained
We seem to have become accustomed to Tesla's nearly one million annual global sales and the fact that the company's market capitalization is rapidly soaring to the top of global car companies. But we've almost forgotten that Tesla has had its share of miserable years, efforts and struggles.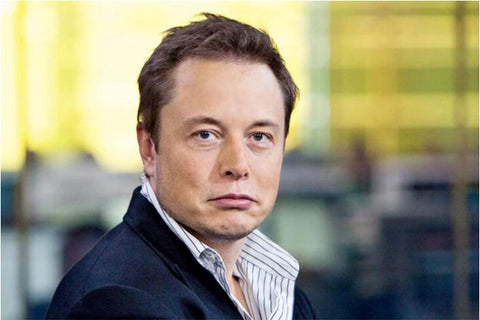 Musk, who brings his own flow, often gives people the feeling of a flow star, but there are also some reports that Musk works 80-90 hours a week and often sleeps in the factory. Under Musk's leadership, Tesla has rolled the auto industry, and this "roll" is the embodiment of extreme efforts.

The results achieved today are the result of Tesla's corporate efforts, but Musk's tricky aesthetic and imagination will make the technology sublime.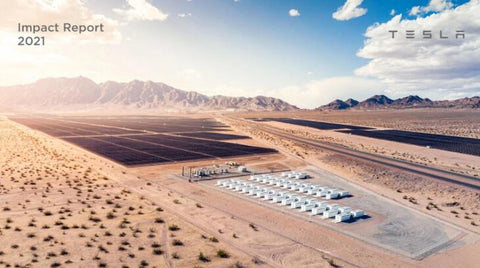 Recently, Tesla officially released "Impact Report 2021", let's take a look, what Tesla has done for the earth this year.
940,000 annual sales, selling one "environmental" one
The report mentions that by 2030, Tesla plans to push its electric vehicle sales to 20 million units/year (about 940,000 units in 2021) and deploy 1,500 GWh of energy storage (about 4GWh in 2021). If that goal is met, each Tesla could reduce CO2 emissions by tons per year.

We really couldn't believe the bright sales target of 20 million units/year when we first read it, but Tesla really did write this in the report.

"In more concrete terms, this means that by 2030 we are aiming to sell 20 million electric vehiclesper year."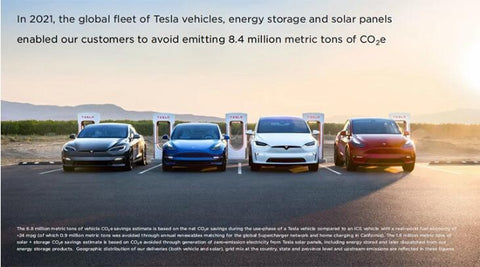 In 2021, Tesla reduced 8.4 million metric tons of CO2 through electric vehicles, energy storage devices, and solar panels. Of this, electric vehicle products contributed 6.8 million metric tons of CO2 reductions.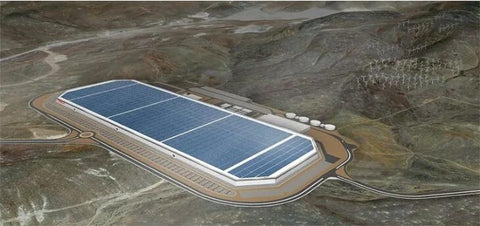 Solar panels have become a hallmark of Tesla's superfactories, and by the end of 2021, Tesla had installed a cumulative 21,405kW of solar power distribution cabinets. Among them, the Gigafactory in Nevada installed the largest solar electric system.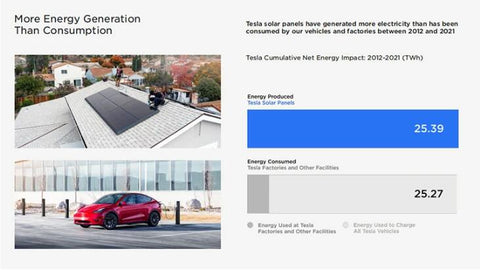 How is this solar energy being used? See the bar graph above that says "25.27", where the smaller dark gray portion of the solar energy is used in factories and production, and the majority of the solar energy is used to charge electric vehicles.

In fact, carbon neutrality is calculated as the sum of corporate emissions and emissions reductions ≤ 0. Tesla, which only makes purely electric cars, has already taken the lead in carbon neutrality.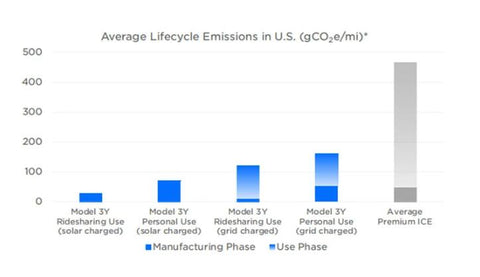 This chart shows the "Average Lifecycle Emissions of Vehicles in the U.S.", with emphasis on the last three bars.

The lower dark part represents the production phase emissions, and the upper gradient represents the use phase emissions.

The answer to the question of whether electric cars are really environmentally friendly is provided by a chart from Tesla.

In the Model 3/Y models used by individual owners, these cars have even slightly higher emission levels in the production phase than traditional internal combustion engine cars, but the overall emissions of electric cars will be lower in the subsequent use of the car.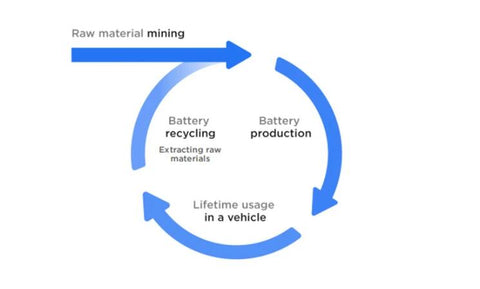 In 2020, Tesla has already deployed a battery recycling facility at its Nevada Superfacility, where production waste and end-of-life batteries will be highly recycled. Tesla already has a mature internal ecosystem, officially claiming "100%" recycling efficiency for its lithium batteries.

There are many differences between fossil fuels and lithium-ion batteries, and most importantly, fossil fuels can only be extracted and used once, while the materials in lithium-ion batteries can be recycled. When the world's new energy vehicle companies are able to do a good job of battery recycling, the idea that electric vehicles represent the future will be more accepted, and the basis of all this is still the physical nature, that is, the lithium-ion recyclable properties.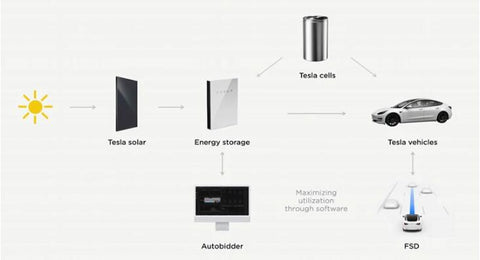 For Tesla to play the business way to perfection, carbon reduction, environmental protection is a marketing tool to help the attack, it does not matter. As a global company, the concept of environmental protection is a good door knocker, knocking into the door of countries often need this brick.

After the brand tone and corporate goals are based, Tesla's high production capacity is the core weapon. And the environmental concept is another supreme weapon, but also the basis of production capacity.
The common cradle of small employees and tens of billions of bosses
In ten years, Tesla has directly created 100,000 jobs, a 70-fold increase over the initial period.

In terms of management, Tesla aspires to be a company that "does the right thing" and has established the basic rule: "Help anyone who works at Tesla avoid misconduct." Tesla conducts regular employee investigations, has a whistleblower hotline, and prohibits retaliation against employees who file complaints.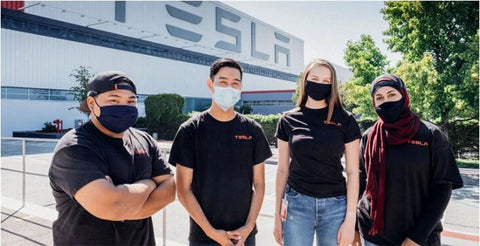 In 2021, Tesla received a total of 3 million job applications.

According to the Universum 2021 ranking, the three organizations where engineering students want to show their talents are SpaceX, Tesla, and NASA, in that order.

In addition to a clear philosophy of grassroots management, Tesla's top management is more able to reach consensus on the general direction.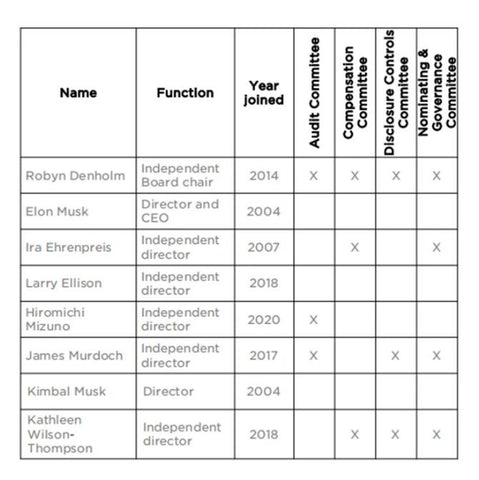 Tesla's board of directors all have deep management and investment experience and are predominantly established entrepreneurs. In terms of corporate decision making, the board is grounded in long-term benefits and does not offer any benefits, or reimbursement policies, to executives that are not available to employees.

Musk, for example, instituted a decade-long compensation package in 2018. The company will not have to pay Musk a salary or base bonus for the next ten years. But that doesn't mean Musk is "giving for free"; if the company meets its performance expectations, Musk could be rewarded with $78 billion in stock options.

The Q1 2022 earnings report shows that Tesla reported revenue of $18.756 billion and net income of $3.28 billion, which means Musk will "unlock" $23 billion in incentives.

Standing today, such incentives are really more cost-effective than receiving a salary. But we can not ignore the risk behind the huge incentive, 2018 is the Model 3 difficult time period, when Tesla is not at all today's form. If you receive a salary, a year of millions of millions of dollars of fixed income, at that time than the equity incentives look much more cost-effective.
Since its initial public offering in 2010 through December 31, 2021, Tesla has achieved an annualized shareholder return of 65%. Despite its pursuit of profit, Tesla has made a number of "counterintuitive" decisions in key decisions.

Develop a new electric car based on an all-electric platform

-Build a charging network that would require a large cost outlay

-Build Gigafactory 1, the world's largest lithium-ion battery factory

-Deploy FSD intelligent driver assistance system for all models

-Open OTA upgrades for all models (since 2012)

-Acquired SolarCity Corporation (2016) to expand into energy and energy storage

The above few years things seem simple and positive R&D, building charging network, developing smart driving and opening OTA upgrades are what almost every new energy vehicle company in China is doing, but it seems that Tesla is the first to develop such a development model. Although the enterprise seeks profit as the basis, Tesla's shareholders' meeting was ahead of its time to develop the right model, which led to the high return rate later.


At Tesla, equity incentives are not only for major shareholders, but also for employees. In 2021, 69% of Tesla's new managers, executives and directors will be promoted from within, and only 31% will be "parachuted in".

Tesla's pursuit of efficiency, and the many factors that support efficiency, in addition to creating a best-selling product, the optimization of management and advanced organizational structure is equally important.
Users do not accept "kidnapping", only recognize the product
Tesla clearly understands that users are not moved by low carbon and will not use low carbon as a reason to buy, but lower car costs, maintenance costs, and higher used car prices, among other factors, are the key.


Citing official data, the 4WD version of the Tesla Model 3 has an average energy cost of 63 cents per mile at 60,000 miles. Combine that with the nearly maintenance-free post-maintenance warranty, and the overall cost of ownership for the Model 3 is higher than the Toyota Camry, but significantly lower than the BMW 3 Series sedan.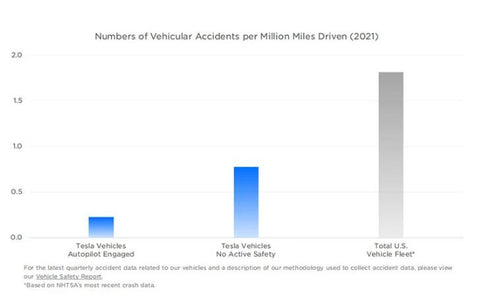 By comparison, the average number of crashes per million miles driven in the United States is 1.81

The above data, I'm afraid, is not quite the same as everyone's perception. Many non-Tesla owners' understanding of Autopilot comes from those videos on the internet, such as the American guy hanging an orange on the steering wheel and then sleeping while driving.

Autopilot's reliability may still be controversial at the moment, especially in the higher-level functions of FSD, and the system's aggressive driving style is often questioned. Perhaps Autopilot's broader application scenario is the highway, and highway driving is characterized by serious accident consequences, but low accident rates?

On the point that Autopilot greatly reduces the accident rate, it is not possible to help Tesla blow anything for the time being. However, it is necessary to say that Tesla has taken the lead in delineating the new energy vehicle track, and has placed intelligence and intelligent driver assistance systems in an important position, and Tesla has also established its positioning as a high-end enterprise in this way.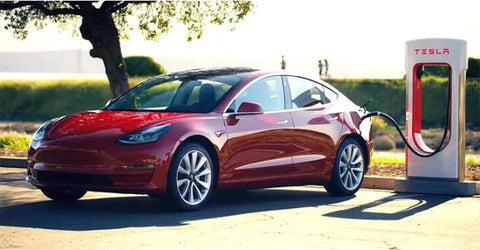 In addition to the model, the charging network is also an important part of the user-perceivable product. Before we knew Tesla Model S, Tesla had already started the domestic charging network layout.

As of March 2022, Tesla has built 1100+ Supercharging Stations, 8500+ Supercharging Piles, 700+ Destination Charging Stations, 1800+ Destination Charging Piles in China, and the charging network covers 360+ cities and regions.

For every country Tesla lands in, experience stores and charging network will follow, and if it is a "key country", Tesla will also bring its factories. This is a brand that is bringing the full range of smart electric car experiences to more places.
Comments
In Tesla's 2021 Impact Report we see that in addition to the long-term goal of nearly one million annual sales and 20 million sales by 2030, Tesla is also paying more attention to environmental protection and green, which allows Tesla to stand taller and meet a steady stream of new customers to buy.

For the long-term goals of the company, Tesla is clear and has done many precedent-setting things. Perhaps for new energy companies in any country or region, setting the goal of catching up with Tesla is a must, and many of the "rules" Tesla has set are hard to get around.
---