Elon Musk's $44 Billion Acquisition Of Twitter
44 billion dollars, hammer down on the deal.

Twitter announced on April 25 that its board of directors had unanimously approved Musk's takeover bid and the company would be sold to Musk for $54.2 per share (about $44 billion), a wholly-owned deal.

It took Musk only one month to progress from being a well-known user of Twitter, to being a major shareholder, to becoming the owner.

According to Twitter's Q4 earnings report, it has 217 million mDAU (monetizable daily active users) and is undoubtedly one of the most influential global social media platforms.

And Musk, as the world's richest man with a unique style and even some "mouths to feed", synonymous with "capital", what is he going to do with Twitter after acquiring it? What impact will it have?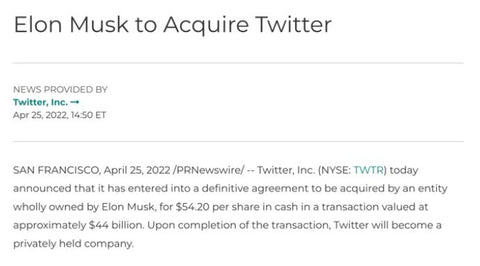 Some people follow and some people resent

"As a company, Twitter has always been a piece of my heart and my biggest regret, because it has been tied to Wall Street and the advertising model. Now, Musk taking it back from Wall Street is the first step in the right direction." Twitter co-founder, former CEO and Musk friend Jack Dorsey tweeted his position on the issue.

A key condition of Musk's offer is the privatization of Twitter, and an exit would make it easier for him to make sweeping changes to the company, namely, transforming Twitter into a "bastion of free speech.

"In principle, I don't think Twitter should be owned or run by anyone, it should be a public good at the level of an agreement, not a company. Musk is the only solution I trust to solve this problem. I believe his mission is to deliver the light of conscience." Dorsey raises the Musk banner.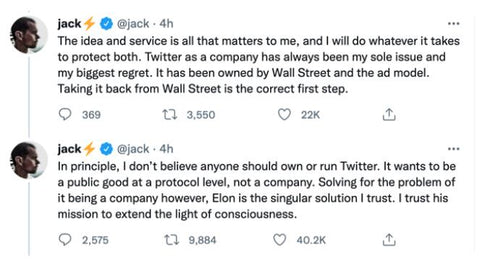 Sriram Krishnan, who led the core consumer product team at Twitter, tweeted, "This is one of the most important services in the world, it needs a radical change and Musk is probably the best person to do it."

An employee who said he was a Twitter product manager also tweeted that the acquisition might be good for hiring, "You'd be surprised how many people wrote to me today saying they'd definitely consider applying for a job if Musk took over."

Others made fun of the new boss, asking for "Teslas for everyone!"

Musk's appeal is evident, but it's clear that the high-profile and always elusive richest man isn't satisfying everyone, and internal employees are full of doubts.

"These are really troubling and uncertain times." Edward Perez, Twitter's head of social health product management (the team that focuses on public conversation and discourse), said after the deal was announced. "Most of us firmly believe that Twitter is not just a technology platform but has a big responsibility to society, and hopefully our new owners will understand that."

Others said that within minutes of the acquisition announcement, employees began planning to resign in internal company groups.

Employees are skeptical of Musk on two main points: one, Musk's bias toward absolutist freedom of speech is too extreme and runs counter to the healthy discussion Twitter promotes; and two, he will have a negative impact on the survival of the company's minority groups.

"We believe that one of Musk's main motivations may be to influence Twitter's vetting policy, which he has often criticized as being too strict." Jefferies analyst Brent Hill wrote in an investor report. Bank of America analyst Justin Post also said in a report to clients that Musk could lead to changes in content policy if he joins the engagement.

Musk has a "checkered" web surfing history, with his comments repeatedly causing controversy and being regulated.

For example, in 2018, Musk suddenly announced through a tweet that he wanted to take Tesla private, even giving a specific purchase price of $420, against the backdrop of a persistently low shorted Tesla stock price. Immediately after the tweet, Tesla's stock price soared, resulting in heavy losses for short sellers. The SEC therefore launched an investigation into Musk, who had not negotiated his own privatization funding at all.

As well as being a super KOL with over 84 million followers, Musk's public stands on cryptocurrencies such as dogcoin and bitcoin are directly tied to market confidence and the value of the currencies. In January last year, Musk's Twitter profile became "bitcoin". After Musk changed his Twitter profile, bitcoin pulled up $800 in the short term, with the price once quoted at $32,758 per coin.

Also in 2018, Musk was sued for suggesting that a Thai cave diver who had criticized him was a pedophile, and last October, a federal jury found that Tesla had allowed a black former employee to be placed in a racially hostile work environment without taking reasonable steps.

Outside of Twitter Inc. there was also opposition to the acquisition.

"This deal is harmful to democracy, and billionaires like Musk are playing by a different set of rules and seeking power for their own benefit. We need a wealth tax and tough rules that hold big companies accountable." U.S. Senator Elizabeth Warren, Democrat, said.

The public has a point. But with the deal set and expected to close within the year, more attention now shifts to Musk's next move.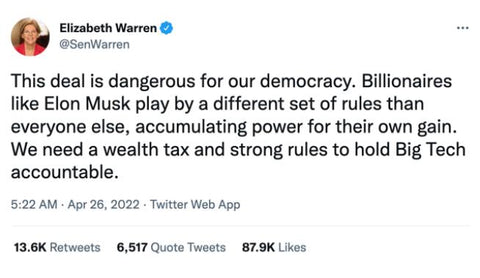 Musk's 'sprawl'

The Wall Street Journal cites sources familiar with the matter, and even Parag Agrawal, Twitter's current CEO, says that once Musk takes over the company, "we don't know what direction the company will go."

We can find some clues in Musk's frequent tweets.

On the one hand, there are new features, including a more careful content review mechanism, tweet editing, longer tweets, real-name authentication for real users, elimination of sailors and bots, tagging paid users with authentication, open-sourcing the source code of Twitter algorithms and posting it to GitHub, etc.

The other side of the coin is the company's business model.

For the full year 2021, Twitter's revenue was $5.08 billion, up 37% year-over-year, with advertising services accounting for more than 80% of revenue. But Musk has made it clear that Twitter should move to a more subscription-based and paid business model, with the current $2.99 monthly Twitter Blue membership offering the ability to "undo tweets," and Musk believes more paid features should be added, such as eliminating ads. However, it is unlikely that Musk, who "borrowed money" to buy Twitter, will simply leave the advertising business behind for now.

CEO Parag Agrawal has been in office for less than six months, and it is not clear whether Musk has the time and energy to be involved in the management of Tesla and SpaceX, as he is busy with the management of these companies.

Agrawal's current total compensation is $30.4 million, mostly in stock, and according to research firm Equilar's estimates, if he is fired within a year of the change in control, Agrawal could receive about $42 million based on his annual salary, early cash-out stock options, using Musk's opening price of $54.20 per share as a reference, and combined with Twitter's recent proxy assessment .

Musk has also given proposals to lay off employees, close Twitter's San Francisco headquarters and not pay the board. The latter alone would save about $3 million a year, he said.

Twitter shares climbed on news of the acquisition, rising slightly to $51.70 on Monday, up 21.19 percent so far this year, and Twitter, which has been less popular in the stock market, has outperformed other technology stocks and the broader market. Twitter, which is scheduled to report Q1 results on Thursday, said it will not hold a conference call with analysts on that day Thursday.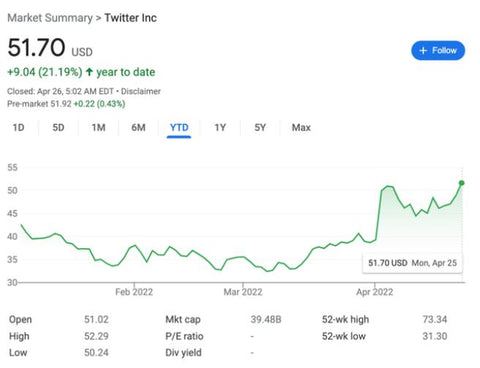 Although Twitter's stock price performance has been underwhelming, as one of the world's largest social platforms, it has been a sought-after acquisition target for large companies and institutions. Salesforce, Google and activist hedge fund Elliott Management have all reportedly been interested in acquiring it, but it was Musk who finally took it into his pocket.

He started a low-profile shareholding in March, became a major shareholder by tweeting a big opinion war, made an offer in April, to get debt financing from financial institutions to prepare good funds, to today's official announcement, to complete the acquisition at lightning speed.

Musk once encountered resistance from Twitter, which said it wanted to start a "poison pill plan," but this now seems more like a means to buy time and say in the negotiations. According to the Wall Street Journal, Musk met privately with several Twitter shareholders on Friday to present the advantages of his proposal, while reiterating that the company's board would need to make a "take it or leave it" decision.

After that, Twitter's position shifted.

The future of Twitter may be even more dramatic, will it be a "bastion of freedom" or a "one-man show"? It is certain that Musk is already "sprawling".
---