Musk: Battery Will Be The "limiting Factor" For Tesla In 2-3 Years
Local time on March 22, Tesla CEO Elon Musk (Elon Musk) is expected next year (electric car) battery production will face "challenges", the battery will be in 2-3 years to hinder the development of Tesla "limiting factors". At the same time, Musk said Tesla will expand to other markets and add new models after meeting existing market demand.
At the opening ceremony of Tesla's Berlin factory in Germany, Musk delivered the first 30 Model Y models made in the Berlin factory to customers. The Berlin plant, which took two years to build and cost 5 billion euros to put into operation, is a further expansion of Tesla's global production capacity and relieves delivery pressure to some extent.
The Berlin superfactory will be dominated by electric vehicle production lines, supplemented by battery production, and is expected to have an annual capacity of up to 500,000 vehicles. According to JP Morgan's forecast, Tesla's Berlin plant will have a capacity of about 54,000 vehicles in 2022, 280,000 in 2023, and will eventually reach an annual capacity of 500,000 vehicles by 2025. With the Berlin plant in operation, Tesla's total global production capacity will reach 2.7 million vehicles.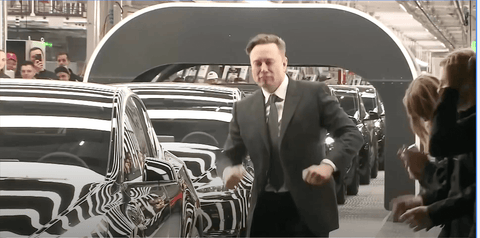 Although the happy news of the new plant coming online made Musk excited to the point of dancing at the groundbreaking ceremony, Musk still expressed concern about the problems Tesla is facing during his speech to employees, arguing that the industry needs to focus more on the battery supply chain.
Musk said the challenges in the coming years will be related to battery production and its supply chain, including raw material procurement. "Last year, there were a lot of challenges in terms of the chip supply chain, and there is still a chip shortage this year, and I think battery production could be challenging next year."
"Over the next two to three years, the concerns will be about megawatt hours (MWh) of battery production, the supply chain, and the rate of mining and refining of battery materials. To some extent, the focus is on how many terawatt-hours (TWh, 1 TWh = 1 billion kilowatt-hours) of batteries Tesla can produce each year." Musk said, "We roughly calculate that it would take about 300 terawatt-hours to transform the world into a sustainable energy economy, which means a huge amount of 1 megawatt-hour (MWh) = 1,000 kilowatt-hours (kWh) batteries."
Batteries are the core component of electric vehicles, accounting for more than 40% of the total cost of the vehicle. With the explosion of the new energy industry in recent years, battery raw material prices have been rising, making Tesla's business strategy of reducing costs and prices unsustainable.
At the battery day in 2020, Musk said that the development of affordable mass-market electric cars "is the dream of the company since its inception". However, since the third quarter of 2021, Tesla has raised its prices several times. Within the last week or so, Tesla has announced three consecutive price increases, with four models, including the Model 3 and Model Y, seeing single price increases ranging from 10,000 to 20,000 yuan, and the highest cumulative increase of more than 30,000 yuan for the Model Y long-range version.
Currently, Tesla's cheapest model, the Model 3 rear-wheel drive version, is gradually losing its price appeal as its price in the U.S. rose to $47,000 and is approaching $300,000 in China. Bernstein analyst Tony Sacconaghi (Tony Sacconaghi) analysis said that Tesla's sales will not be able to grow at more than 50 percent per year if it does not launch a $25,000 car.
Tesla's 2021 financial results disclosed in January showed that Tesla's global car deliveries in 2021 were 936,000, up 87 percent year-on-year. In February, Musk said that Tesla's car deliveries will continue to grow by more than 50 percent in 2022, meaning Tesla will deliver more than 1.4 million cars this year. Previously, Musk had also set a goal of achieving 20 million annual deliveries by 2030.
In its 2021 earnings report, Tesla said the company is confident that it can further address costs through manufacturing innovations and carefully planned products and factories. Manufacturing innovations include large castings, structural battery packs, 4680 cells and other projects.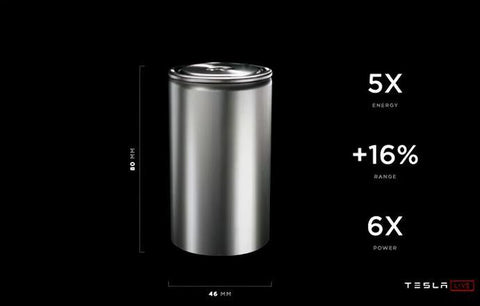 Musk believes the 4680 battery is a "huge breakthrough" in technology that will make it possible for Tesla to produce electric cars priced at $25,000.
In September 2020, Tesla released the new 4680 cylindrical battery. Composed of 950 cells with an energy density of about 300kWh/kg, the 4680 battery is larger, has five times more capacity and six times more power output than the Panasonic 2170 battery previously used by Tesla. It is expected to increase the range of the vehicle by 16% and reduce the cost by 14%.
In January, Tesla's pilot plant in Fremont, California, produced the one millionth 4680 battery, marking the 4680 battery's official entry into mass production. Meanwhile, the first Model Y models with 4680 batteries are expected to begin delivery by the end of this quarter.
The Tesla Berlin plant, which is in production, has a 4680 battery pack production base in addition to the car production line. The first phase is designed to have a capacity of 50GWh per year and will likely be put into production in the second to third quarter of this year. At present, the Model Y delivered by the Berlin plant is still assembled with the 2170 battery supplied by the Shanghai plant.
At the Berlin plant's groundbreaking ceremony, Musk said he saw the potential of manganese-based cathodes in battery chemistry. At Tesla's Battery Day 2020, Musk had said "it's relatively simple to use two-thirds nickel and one-third manganese for the cathode, which will allow us to generate more than 50 percent more battery capacity with the same amount of nickel."
At the same time, he also said that Tesla is experimenting with more materials to make batteries. For the foreseeable future, Tesla, like others in the industry, will focus on nickel-based chemicals for long-range vehicles, and iron phosphate for short-range vehicles.
Last month, Musk re-emphasized the importance of nickel. He argued that despite being called a lithium-ion battery, lithium is only about 2 percent of the composition of the battery. Technically, it should be called a "nickel-graphite" battery, because the entire battery is an important component of nickel. During Tesla's latest quarterly conference call, Musk said, "Please ask all miners to mine more nickel in an environmentally beneficial way and keep the supply efficient, then Tesla will supply a substantial long-term large order."
---