Mamma Cathie: tesla Stock Price Will Triple In 4 Years
Ark Investment Management, a unit of Wall Street star fund manager Cathie Wood, now expects Tesla shares to quadruple in price to $4,600 by 2026.

Tesla shares rose nearly 2 percent to close at $1,004.29 on Monday. Ark Investments predicted last year that Tesla shares were expected to reach $3,000 by 2025. But the firm subsequently updated its share price target out of its latest expectations for Tesla's future self-driving cab business and capital efficiency.

The firm now predicts that Tesla shares could rise to about $5,800 by 2026 in a bull scenario, and to $2,900 in a bear scenario, still about three times the current price.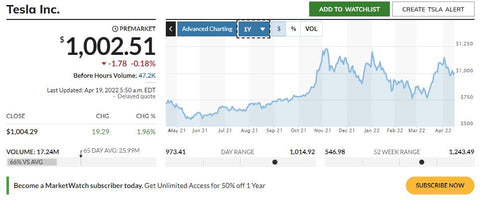 "Despite our adjusted expectations for 2026, we believe that our Tesla valuation model remains conservative in its approach." In a recent blog post, Ark Investment analyst Tasha Keeney wrote, "Our assumption is that by 2026, Tesla stock will be trading like a mature company, not a high-growth company."

Wood, dubbed "Sister Wood" by Chinese investors, has been a staunch supporter of Tesla and its CEO, Elon Musk. Although her flagship Ark Innovation ETF trimmed its stake in Tesla last month, the electric car maker remains its largest position, accounting for 10 percent of the fund's total holdings.

Betting on self-driving cab service

According to Keeney, a key driver of Ark's new model is that market demand for self-driving cab services will increase, with a market size of between $11 trillion and $12 trillion.

Ark Investments also boosted confidence in Tesla's ability to achieve fully automated driving, believing that this future business will contribute 60 percent of its expected value in 2026.

Another driver is the expectation that Tesla will improve capital efficiency, Keeney wrote, noting that Tesla's capital expenditure per unit of incremental capacity has fallen to $7,700 from $84,000 in 2017.

Meanwhile, Tesla's bitcoin position is included in Ark Investments' model, but is not considered a key component of the forecast, with bitcoin prices providing less than a 5% boost to Tesla's target stock price.

Notably, some business opportunities that Tesla may also pursue are not included in this model, including the energy storage business, artificial intelligence services and humanoid robots.

Ark Capital has made its valuation model open source, allowing people to change the data entered and simulate potential outcomes.

Not everyone is bullish on Tesla

However, not everyone is bullish on Tesla after the stock's 40 percent jump in the past 12 months.

David Trainer, CEO of investment research firm New construct, even thinks Tesla shares could fall to $150-$200.

"Tesla once enjoyed a first-mover advantage, but it no longer has that advantage, and the track is flooded with a lot of other electric car companies that have been very successful." He claimed.

"In my opinion, this is Casey Wood's rhetoric to attract retail investors who don't actually understand what makes Tesla competitive."



---