For The Acquisition Of Twitter, Musk Cut His Holdings In Tesla To Cash Out $4 Billion
2 days after the official announcement of the acquisition of Twitter, Musk reduced his holdings of Tesla.
On April 28, local time, SEC filings showed that Tesla (TSLA) CEO Elon Musk reduced his holdings of Tesla stock by a total of 4.415 million shares at $870 to $1,000 per share on April 26 and 27, for a total of $3.99 billion.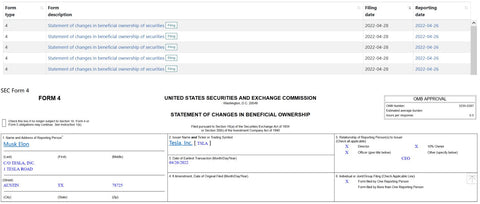 Specifically, before the reduction, Musk held 172,608,300 shares of stock, and after the reduction the number of shares held was 168,193,300.
The Wall Street Journal cited FactSet data, Musk owned about 17 percent of Tesla, or more than 172 million shares, before selling the stock.
Musk said on Twitter on the 29th that there are no plans to further reduce his Tesla stake after this reduction.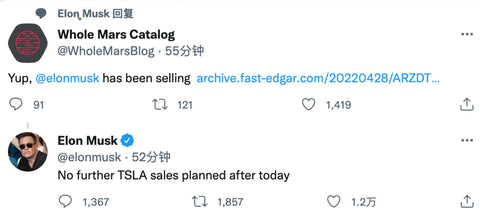 It is worth noting that the node of Musk's holding reduction is exactly after Twitter announced that it accepted the acquisition offer. On April 25, local time, Twitter announced that it had reached an acquisition agreement with Tesla CEO Elon Musk, agreeing that Musk would fully acquire Twitter for $54.2 per share, totaling about $44 billion in cash.
A day later, Tesla shares plunged 12.18%, leading the decline in technology giants, market value evaporated about $125 billion (about RMB 819.4 billion) in one day, falling below the trillion dollar mark. Some analysis points out that the market is not optimistic about Musk's acquisition of Twitter this deal. Because Musk may need to sell his personal shares of Tesla to raise funds for the acquisition, and after the completion of the acquisition, Musk needs to share the energy to manage Twitter, or will affect the daily operations of Tesla.
As of the close of trading on April 28 local time, Tesla was down 0.45% at $877.51 per share.
---