Elon Musk Was Exposed To Interfere With Google Founder Brin's Marriage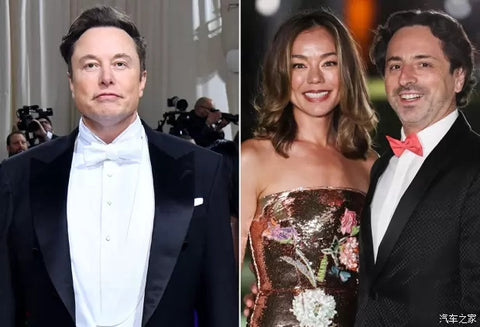 Elon Musk was exposed to interfere with Google founder Brin's marriage, kneeling down to apologize after Brin sold his investment
Tesla CEO Elon Musk was exposed to interfere with the marriage of old friends.
According to a report in the Wall Street Journal on July 24, Elon Musk allegedly had an affair with Nicole Shanahan, the wife of billionaire Google co-founder Sergey Brin.
The Wall Street Journal, citing sources familiar with the matter, said Musk and Shanahan had a "brief affair" that subsequently led to Brin filing for divorce earlier this year and ended a long friendship between Brin and Musk.
Brin filed for divorce in January 2022, citing "irreconcilable differences," and said the two had been separated since Dec. 15, 2021. Musk and Shanahan's alleged affair reportedly took place in early December 2021 at Art Basel in Miami, from Dec. 2 to Dec. 4, 2021.
Musk got down on one knee at a party and publicly asked for Brin's forgiveness, according to a report in The Wall Street Journal. Brin accepted Musk's apology, but they did not rebuild their relationship. Meanwhile, Brin and Shanahan are in divorce mediation, with both sides arguing over the amount of the settlement.
In an interview earlier this month, Shanahan said of the divorce filing, "For the sake of our children, I want Sergei and I to move forward with dignity, honesty, and in harmony. We are both working in that direction."
Sources close to Shanahan mentioned that she was already separated from Brin when Shanahan had an affair with Musk last December, but still lived together. In the divorce filing, Brin listed Dec. 15, 2021, as the specific date of separation. The couple's marriage was already on red last fall, mainly because of the Newcastle pneumonia pandemic closure and caring for their daughter.
Brin co-founded Google with Larry Page in 1998 and helped it become one of the world's most valuable companies. He and Page exited the management of Google parent company Alphabet in 2019, but both remain on the board.
Musk and Brin have long been friends and have often spoken about their friendship in interviews. Musk has said that he often spent nights at Brin's home in Silicon Valley over the years.
Brin helped support Tesla through the 2008 financial crisis. during the 2008 financial crisis, Brin provided Musk with about $500,000 in funding as Tesla struggled to increase capacity. in 2015, Musk gave Brin one of the first deliveries of Tesla's first all-electric SUV, the Model X.
But relations between the two men and their teams have grown tense in recent months, according to people familiar with the matter. Brin instructed his advisers to sell his personal investments in Musk's company in recent months after learning that Musk had been having an affair with his wife. It's unclear how large those investments were or if they were sold.
Brin and Shanahan are now undergoing divorce mediation, and Shanahan wants more than $1 billion in damages, people familiar with the matter said. The two sides have not yet reached an agreement. Brin's side argues that Shanahan's demands go far beyond her rights under the prenuptial agreement. Shanahan, for her part, argues that her demands are only a small portion of Brin's $95 billion estate and that she was forced to sign the prenuptial agreement while she was pregnant.
As of July 25, Musk was the world's richest man, with $242 billion, and Brin ranked eighth in the world with a fortune of $94.6 billion, according to the Bloomberg Billionaires list.
---