Elon Musk Knocks On The Door Tweeting While Tesla Shareholders Panic First
From publicly expressing his dissatisfaction with Twitter to becoming its largest outside shareholder, Musk, the world's richest man, took only half a month. And from Musk's public intention to $43 billion full-scale acquisition of Twitter, to Twitter's conception of the "poison pill strategy" to resist, to the majority shareholder Saudi Prince rejected the acquisition proposal, and then Musk admitted that he was not sure whether the acquisition, only a few days have passed.
In those few days, Musk and Twitter's battle for equity was raging on the other side of the world. However, the first to feel nervous after the announcement was surprisingly Tesla investors - Musk may need to cash out a lot of Tesla stock to raise funds if he wants to buy Twitter.
So why would Musk, the world's richest man, look at Twitter as an asset and spend a lot of money to acquire it? What makes Twitter special compared to other social media platforms? And what is Musk's ultimate goal in buying Twitter?

The tumultuous battle for equity

On April 14, Tesla CEO Musk submitted a non-binding privatization proposal to the company on April 13 to acquire all of its outstanding common stock for $54.20 per share in cash, according to a filing with the U.S. Securities and Exchange Commission.
And just two weeks before the aforementioned regulatory filing was disclosed, Musk posted several tweets and even launched a poll to the general public on the editing feature of Twitter content, constantly hinting at his dissatisfaction with certain features of Twitter. on March 26, he also tweeted, "Do [we] need a new social platform?" The poll launched by Musk was met with intense reactions, with some suggesting Musk either buy Twitter outright or build a new platform of his own.
However, in just over half a month, Musk became Twitter's largest shareholder, with the SEC's 13G filing released on April 4 showing that as of March 14, Musk held 73,489,938,000 shares of Twitter through the Musk Revocable Trust, equivalent to 9.1 percent of the company's outstanding common stock. This indicates that Musk was already buying a large amount of Twitter stock before he initiated the above vote.
In addition, the SEC filing also shows that Musk bought 620,000 shares of Twitter stock at a price below $36.83 per share back on Jan. 31 of this year. In other words, Musk was already planning to buy Twitter shares at least two months ago.
Twitter's filing with the SEC says Musk's proposal is non-binding and that even if the two sides agree, the deal will depend on a number of other factors. Twitter said the company's board would review Musk's offer and said any response would be in the best interests of "all of Twitter's (existing) shareholders.
Musk's "savage" privatization offer was also immediately rejected by Saudi Prince Al Waleed bin Talal Al Saud, a Twitter shareholder, who argued that Musk's bid undervalued the company. In a tweet, he said, "Given Twitter's growth prospects, I don't think Musk's $54.2 offer is close to Twitter's intrinsic value. As one of Twitter's largest long term shareholders, my investment firm Kingdom Holding Company and I reject this offer."
Musk later also admitted that he could probably afford to buy Twitter from a technical point of view, but added that it was uncertain whether he could actually buy Twitter in the future and that he simply did not care about the financial benefits of the acquisition. In the early hours of April 16, Beijing time, Twitter announced the details of its "poison pill" plan to block Musk's acquisition. According to the plan, if Musk acquires more than 15% of Twitter's stock, other shareholders will be able to buy additional shares at a discount, making Musk's stake diluted and the acquisition more costly. The plan is valid for 364 days. It should be noted that the "poison pill" plan is aimed at preventing unsolicited hostile takeovers and does not affect the board's ability to negotiate or accept takeover proposals that are in the interest of the company and its shareholders.
After Twitter confirmed Musk's offer on Thursday, Wall Street analysts gave mixed feedback, with some saying Musk's offer was too low and others saying it was reasonable. Several investment banks have updated their ratings and price targets for Twitter.
Piper Sandler gave Twitter a neutral rating and a price target of $45. The agency believes that the situation is now in uncharted territory, but a counter-offer is not possible, and the price seems reasonable; Wedbush has given Twitter a Neutral rating and a price target of $42. The agency believes that Twitter's acquisition will not be completed at the price proposed by Musk, that the company's board will not consider the offer, and that Musk's leadership of the company's reforms is not in the best interest of the company and its shareholders; the Center for Financial Research and Analysis (CFRA) has given Twitter a Neutral rating and a price target of $45. The Center for Financial Research and Analysis downgraded Twitter to Hold from Buy, saying Musk's offer should be attractive to shareholders. It should also be noted that Goldman Sachs, which Twitter brought in to evaluate Musk's acquisition earlier this month, gave Twitter a price target of only $30 and a sell rating.
According to the Wall Street Journal, overall, of all the investment banks and institutions covering Twitter, seven have a "buy" rating, one has a "hold" rating, 27 have a "hold " rating and 3 "sell" ratings. As of the close of trading on Friday, April 15th, Twitter was trading at $45.08.
In a request for comment, Third Bridge senior analyst Scott Kessler said, "Musk's actions could push Twitter to pursue other possible acquisition options. Just a few years ago, Twitter was the subject of a number of aggressive buyers seeking to buy the company. Jack Dorsey stepped down as CEO at the end of last year, but incoming CEO Parag Agrawal has yet to prove he's up to the task. Also a few years ago, companies like Disney and Salesforce appeared to express interest in acquiring Twitter, but none of those acquisition deals materialized. We know from multiple expert interviews that corporate governance and innovation have been challenges for Twitter for years."

Twitter has lost money for two consecutive years and ranks 15th in the world in monthly activity

The authors note that Twitter is relatively small compared to the current global social media giants.
For years, investors have also been criticizing Twitter for failing to realize its full potential. Twitter can't get billions of users like Facebook (Facebook's daily activity is more than 11 times that of Twitter), nor can it develop a huge advertising business like YouTube (YouTube's revenue last quarter was more than five times that of Twitter).
According to Statista, as of January 2022, in the global ranking of monthly activity (MAU) of all social media, Facebook holds the first place with 2.91 billion, second is YouTube (2.562 billion), third is WhatApp (2 billion), fourth is Instagram (1.478 billion), and fifth is WeChat ( 1.263 billion). Twitter was ranked 15th on the list with only 436 million.
However, Musk's idea to buy Twitter for $43 billion - whether it is feasible or not - shows the importance of Twitter. The data shows that as a deep user of Twitter, he has sent out more than 17,000 tweets and has more than 80 million followers. So it is argued that Musk has become an "internet sensation" and is becoming more influential given the number of tweets he has posted in the past. A single tweet from Musk about Tesla, Bitcoin or Dogcoin can send the underlying assets soaring or plummeting.
However, Musk has also gotten into trouble for tweeting about Tesla. On April 17, Tesla shareholders reportedly filed a class action lawsuit against Musk for his 2018 tweet "Take Tesla private," and won a key ruling that could result in billions of dollars in damages for Tesla and Musk.
The plaintiffs argued that Tesla's stock price fluctuated dramatically as a result of Musk's "false tweets," causing damage to investors. The presiding judge in the case, Edward M. Chen, said "no reasonable jury would find Musk's Aug. 7, 2018, tweet to be accurate or not misleading," according to court documents released by Tesla shareholders. Edward M. Chen ruled that Musk knowingly violated the law.
Media reports say that if Musk does not appeal the ruling, it will put him at a disadvantage in a jury trial in late May.
It has been argued that for politicians, business leaders, celebrities and prominent journalists, Twitter is a key platform for amplifying their messages and controlling their personal speech. Musk, when asked at the TED 2022 conference in Vancouver on April 14 why he wanted to acquire Twitter, responded, "My strong gut feeling is that having one of the most trusted, broadly inclusive public platforms is extremely important to the future of human civilization, but I'm not at all concerned about the economic benefits (that would result from acquiring Twitter). "
It should also be noted that Twitter has recorded two consecutive years of losses - a loss of $1.136 billion in 2020 and a narrowing of losses to $221 million in 2021. Twitter has failed to turn a profit in five of the last seven years. Since hitting an all-time high of $80.75 intraday on Feb. 25, 2021, Twitter's stock price has been decimated to date, though it has rebounded nearly 40% since bottoming out in late February of this year. Musk's offer of $54.20 per share is also nearly 1/3 less than the high of $80.75 - a price at which existing shareholders are clearly unwilling to sell their shares.
In Musk's April 14 SEC filing, he also included a letter of offer to Bret Tylor, the independent chairman of Twitter and co-CEO of Salesforce. The letter was very brief, but extremely informative.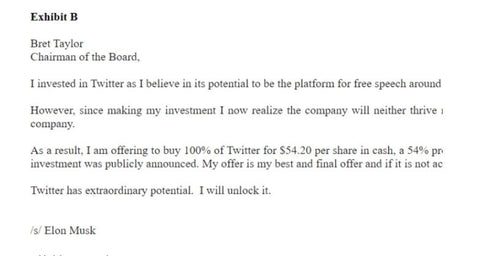 "After investing in Twitter, I realized that Twitter could neither prosper nor fulfill this mission under the current regime. Twitter needs to be transformed into a private company. Therefore, I plan to acquire all of Twitter's shares for $54.20 per share in cash, an offer that represents a 54% premium to the share price before I started investing and a 38% premium to the share price before I publicly disclosed my investment. This is my highest and final offer, and if it is not accepted, I will reconsider my position as a shareholder."

How will the acquisition of Twitter be funded?

According to Forbes data, Musk is worth more than $260 billion and is currently the richest man in the world. However, the author notes that Musk, although worth over $260 billion, is almost all in his holdings of Tesla and SpaceX, and does not have many cash assets. According to Bloomberg, Musk has two ways to raise cash for the acquisition of Twitter, one is to directly sell a large number of his Tesla shares for cash, and the other is to pledge his Tesla shares for financing, the latter may be carried out with external partners. According to Bloomberg estimates, Musk currently has $3 billion in cash or other liquid assets, a far cry from Musk's $43 billion offer.
Through the first approach, Musk would need to sell about 36.5 million shares of Tesla stock to raise enough cash to acquire the remainder of Twitter, which would represent more than 1/5th of Musk's current Tesla holdings, but such an approach could lead to a dip in Tesla's stock price, not to mention potentially raising questions about Musk's financial and other commitments as Tesla's CEO.
The second way would require pledging Tesla and SpaceX shares to finance the deal. As of June 30, 2021, Musk has pledged 52% of his Tesla stock. And according to Tesla's policy, pledged shares can borrow up to 25% of their value. Since then, Musk has increased the number of shares he has by exercising his options. His 172.6 million shares are worth $170 billion, which means he could theoretically borrow $42.5 billion by pledging them all. On Twitter, some users teased that today Tesla seems to have been abandoned by Musk.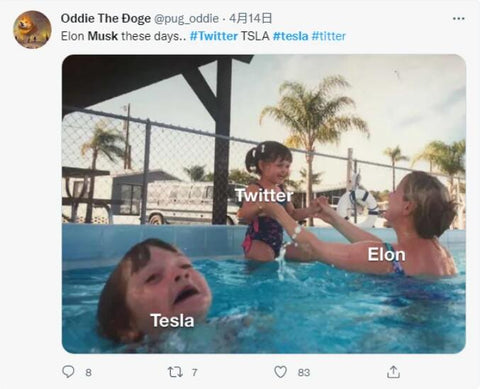 In addition, Musk had said in December 2019 that he had pledged a portion of his SpaceX stake. Musk's stake in SpaceX corresponds to a value of about $47.5 billion, according to data from SpaceX's latest funding round in October 2021. If SpaceX had the same maximum cap policy as Tesla, Musk could raise another $12 billion by pledging his entire SpaceX stake. However, because SpaceX is not listed, Musk's SpaceX holdings are relatively illiquid, leading banks to be much more cautious about giving private financing.
On top of that, Musk has $54.1 billion worth of Tesla options, which he can also use as collateral for loans.

To get your own Web 3.0?

So what's the drug behind Musk's $43 billion proposed takeover of Twitter? Musk doesn't have any kind of master plan for his Twitter vision yet, but he says he will bring "significant improvements" to the platform. At the TED2022 conference in Vancouver last week, Musk also publicly stated that he wants to use "open source algorithms" in an effort to improve public trust in Twitter.
Musk added that he believes he can still close the acquisition deal and compared the deal to some other social media and tech media, saying that Mark Zuckerberg, for example, already owns Facebook, Instagram and WhatsApp and has a shared ownership structure.
Some analysts believe that the metaverse, NFT and Web 3.0 are either the three segments or the areas where Musk wants to use Twitter for his next layout. The analysis points out that the core idea of the above three segments is to return production and ownership to the users who participate in the ecology and use the platform, rather than being owned by the Internet platform or the few people who control the Internet platform companies. Like NFT, Web3.0 is also supported by blockchain technology to be envisioned and practiced, though it is still in its early embryonic stage.
In the concept of Web3.0, each user will be the creator of the future Internet environment, instead of being a "tool person" who generates traffic to earn advertising fees. The most special thing about Web3.0 is that the ownership and control of the digital content created by the user belongs to the user, and the value created by the user can be distributed by the user's own choice to sign agreements with others.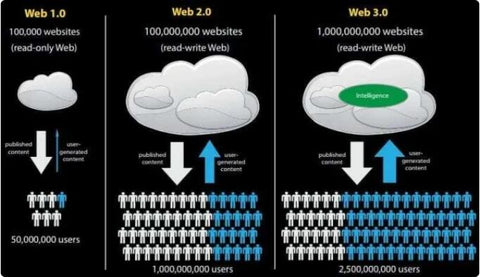 It sounds like Web 3.0 and Musk's views coincide, and with Musk being a key player in driving the development of cryptocurrencies, including Bitcoin, Musk should rightly support this new technology concept that treats every Internet user equally. But in late 2021, Musk took to Twitter to sneer at the current Web 3.0 and engage in a tongue-lashing with Web 3.0 supporters.
From Musk's previous series of tweets, it can be seen that Musk may already be building the future Internet in his mind. Although Musk has also repeatedly "criticized" Web3.0, but did not completely deny the concept, are critical of the current development and Web3.0 essence of the phenomenon of deviation.
In addition, there is speculation about Musk's future layout. With a social platform that has a large number of users, there are many ways Musk can try. For example, tokens between Twitter and Tesla (probably Dogcoin DOGE), or in the future, users can use tokens for rewarding on Twitter, and can use them to buy Tesla directly after earning them.

"Iron Man's business empire already covers six major sectors

Regardless of how Musk raises money, the acquisition of Twitter will be a clear diversification of his assets. Musk's acquisition of a 9.2 percent stake in Twitter, first disclosed last week, marks his first major sectoral move outside of Tesla and SpaceX.
"I'm not playing games back and forth, I've gone straight to the finish line. $54.20 is a high price and Twitter's shareholders will like the offer. If this offer does not result in a deal, I will need to reconsider my position as a (Twitter) shareholder given that I have no confidence in Twitter's current management and I do not believe that I can push Twitter to make the necessary changes in the open market."
The authors note that Musk is not choosing companies and making offers at random. In recent years, Musk has also been working to streamline some of its assets. After vowing in 2020 to "not own any property," Musk sold off several of his California mansions. Musk currently lives in Texas and moved Tesla's headquarters to that state last year.
If Musk's acquisition of Twitter is successful, it will become the second largest stock asset in Musk's hands after Tesla. If the acquisition is successful, then Musk will own Tesla shares ($170 billion), Tesla options ($54 billion), Twitter ($43 billion), SpaceX ($40 billion), and Boring Company ($101 million).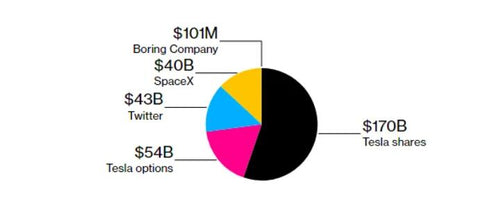 Of course, the picture above does not illustrate Musk's entire business empire. The reason Musk is known as the "Iron Man of the real world" is that he has always been a daredevil, frequently crossing borders and having a brainstorm that is dedicated to turning every crazy idea into reality. Specifically, Musk has a number of top companies under his belt, spanning electric cars (driverless), satellite internet, brain-computer interfaces, underground tunnels, photovoltaic power generation and super high speed rail.
A brief inventory of the companies in Musk's business empire follows.
Tesla.
Tesla is the largest electric car and solar panel company in the U.S., and has partnered with Panasonic in the battery business to produce and sell electric cars, on-board computers, solar panels and energy storage equipment and system solutions. Tesla was the world's first manufacturer of self-driving cars, and by 2018, Tesla Motors had become the world's best-selling rechargeable car company. in October 2021, it became the sixth giant company to break $1 trillion in market capitalization. Closing market cap as of April 15, 2022 was $1.02 trillion.
SpaceX.
SpaceX (Space Exploration Technologies) is an American private space manufacturer and space transportation company headquartered in Hawthorne, California, U.S. SpaceX was founded by Musk in 2002 with the goal of reducing the cost of space transportation and conducting a migration to Mars. SpaceX has developed the Falcon family of launch vehicles and the Dragon family of spacecraft to carry loads to geocentric orbit. SpaceX has achieved what many national space agencies have not, and is valued at $100 billion after its latest funding round in October 2021.
SpaceX launched Starlink, a high-speed Internet access service that provides global coverage via a constellation of satellites in near-Earth orbit. on October 22, 2019, SpaceX CEO Elon Musk successfully sent a tweet via Starlink and said that Starlink is ready to provide space-based Internet service.
Neuralink.
Neuralink is an American neurotechnology and brain-computer interface company founded by Musk and eight other co-founders to develop implantable brain-computer interface technology.Neuralink was founded in 2016 and made public in March 2017.In June 2016, Musk had explored a science fiction concept " On July 17, 2019, Neuralink announced to the public a brain-machine interface system developed by the company. on August 29, 2020, Neuralink demonstrated a pig implanted with a Neuralink device, and the Neuralink device successfully read the pig's The company is valued at $500 million to $1 billion after completing its latest round of funding in June 2021.
Boring Company.
The Boring Company, which means both "boring" and "borehole," is an American company founded by Musk in late 2016. an American infrastructure and tunneling company founded by Musk in late 2016. While its current projects are designed for inner-city transit systems, the company says the Hawthorne test tunnel could be used for superhigh-speed rail development, and that the tunnel currently under construction supports an eventual transition to intercity superhigh-speed rail. Boring has completed a tunnel in Los Angeles County for testing super high speed rail and using Tesla electric vehicles as carriers, and is also building another tunnel in Las Vegas that can run Tesla electric vehicles.
SolarCity.
SolarCity is the largest solar power company in the United States, specializing in the development of residential and commercial photovoltaic power projects. Founded in 2006 by Musk, Lyndon Rive, and Peter Rive, SolarCity is the leading provider of solar power systems in the U.S., offering system design, installation, and comprehensive solar services such as financing and construction oversight to supply power to customers at lower prices than electric utilities. on Nov. 17, 2016, Tesla Motors acquired SolarCity, the largest deal in the history of the solar industry, and SolarCity officially became a Tesla Motors-owned company.
Hyperloop.
Hyperloop is a kind of transportation with "vacuum steel tube transportation" as the theoretical core, which has the characteristics of ultra-high speed, high safety, low energy consumption, low noise, low pollution, etc. The technology is still in the research and development stage. The system's transport module runs in a depressurized, near-vacuum pipeline, traveling in the track of the magnetic levitation principle, the transport module uses a linear induction motor and air compressor propulsion, so it can significantly reduce the resistance, and is expected to enable the train to accelerate up to 1080 km per hour.



---