Earnings Soar But $100 Billion Evaporates Overnight What Are Investors Worried About Tesla?
Revenue and net income both hit a record high, but the stock price plunged more than 11%, Tesla why the market is so worried?
  On January 27, Tesla shares plunged 11.6% to close at $829.1, the lowest closing price since October 14, 2021, with market value evaporating over $100 billion overnight.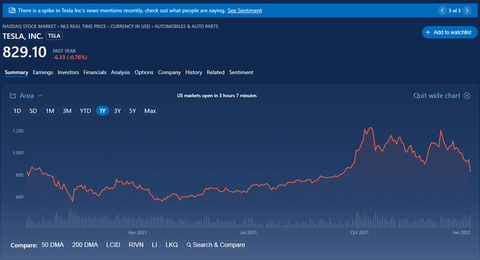 And just the day before, Tesla announced its 2021 results, achieving full-year revenue of $53.8 billion, up 71% year-over-year; net income of $5.5 billion, up 665% year-over-year; and earnings per share of $4.90, up 666% year-over-year. In addition, Tesla said that it achieved the highest quarterly operating margin of any mass-production vehicle company in the fourth quarter.

  In terms of production, Tesla is producing 930,000 vehicles for the full year in 2021 and delivering 936,000 units, almost doubling compared to 2020.

  In 2021, when many car companies cut production due to supply chain and epidemic, Tesla's delivery capacity and profitability levels exceeded Wall Street's expectations, yet such bright results failed to reflect on the stock price.

  Some analysts believe that the U.S. stock market is still digesting the Fed's release of interest rate hike signals, the shock market continued, technology stocks fell, Tesla was also affected by this.

  However, in addition, Tesla's earnings call revealed supply chain restrictions, new product delays and other information, or let investors have more concerns.

  External supply chain problems continue in 2022

  For its part, Tesla continues to be underwhelmed by the automotive supply chain issues in 2022.

  The earnings report said competitiveness in the electric vehicle market will depend on the ability to add capacity and increase production in the supply chain, while anticipating that vehicle deliveries are expected to grow at an average annual rate of 50 percent over the next several years.

  During the conference call, Tesla CEO Elon Musk described two new factories about to start mass production, a new factory in the site selection process, Tesla 4680 battery about to get on board Model Y, etc. He also said that deliveries will easily grow by more than 50% in 2022, which means that production will exceed 1.4 million units this year.

  But the earnings report also mentioned that "the factory has been below capacity for several consecutive quarters as the supply chain has become a major constraint, and this situation may continue in 2022."

  In addition, although Tesla can alleviate the chip shortage by using alternative chips and quickly rewriting the car's software, Musk said that in 2022, the biggest limiting factor for Tesla's production capacity will still be the chips.

  This also means that, despite numerous favorable factors to boost production capacity, Tesla's production capacity ceiling will still be determined by external factors in the coming year.

  New cars delayed again, no hope for lower-priced models

  At the end of November 2021, Musk had said that not only would he attend the earnings meeting, but would also announce Tesla's latest pickup truck product roadmap. Once the news came out, foreign media have predicted that the Cybertruck model, which has been delayed several times, may be launched this year, and investors also have high expectations.

  However, Musk said that the Cybertruck, Semi and Roadster models will not be available this year, and may be launched next year at the earliest, and that this year will only focus on increasing production of existing mass-production models and solving supply chain issues.

  In addition, when asked by investors about production plans for the $25,000 model, Musk not only said that there are no development plans for the $25,000 model, but also said, "That's the wrong question.

  He turned to FSD's fully autonomous driving software and said what really matters is when cars become self-driving, which could bring down transportation costs by a factor of four to five. But FSD hasn't long been a major draw for investors to Tesla because of safety and regulation, said Goldman Sachs analyst Mark Delaney, who is "wary of the speed at which the company will achieve full autonomy."

  For car companies, only having the classic models as cash cows is not enough to maintain the competitiveness of the company, but also to push new models and cultivate star products as a way to capture different markets. In addition, the launch of new models also reflects the car companies' R&D capabilities.

  In 2022, there are no new models on the market, new models have been repeatedly delayed, and the low-cost version of Tesla is also out of reach, especially the lack of electric pickup trucks, which has become a bottleneck for Tesla in terms of products.

  Yahoo Finance said in a report that many investors expect Tesla to rely on low-priced versions of models to grab market share in the hands of traditional car companies, the earnings call disappointed them.

  Bernstein analyst Toni Sacconaghi said in the report that "Musk's highly anticipated product updates were a bit disappointing.

  Is the stock price inflated?

  So far in 2019, Tesla shares have soared dozens of times, rising to $1,243 last year on orders for 100,000 Model 3s from Hertz Rent-A-Car, pushing its market value past $1 trillion. With Musk's share dumping cash, Tesla shares went lower, but in early January after the release of strong delivery data, Tesla shares soared to $1,200, its market value is more than GM, Ford, Toyota, BMW, Honda, Daimler, Volkswagen and a host of traditional giants market value sum.

  The "inflated stock price" is the evaluation of many investors for Tesla, many analysts call it "must avoid the stock", on the one hand, because the automotive manufacturing industry requires a lot of capital investment in the long term, on the other hand, because most of the stocks in the automotive industry are very low price-to-earnings ratio.

  Even Musk has repeatedly said in interviews or on Twitter that Tesla shares are overpriced.

  However, according to the Wall Street Journal, although Tesla shares have plummeted, but also many Wall Street analysts have raised the target price of Tesla.

  Deutsche Bank analyst Emmanuel Rosner said maintaining a Buy rating and $1,200 price target on Tesla stock, "We continue to believe that Tesla's impressive battery technology, manufacturing capabilities and especially cost control will help accelerate the world's shift to electric vehicles and expand Tesla's leadership position."

  Goldman Sachs analyst Mark Delaney, who has a Buy rating and $1,200 price target on Tesla, highlighted its auto margins of 29.2 percent, expects sales to grow more than 50 percent this year and said "Tesla remains one of the fastest growing companies in the automotive ecosystem.



---